Our Press
What are people saying about Yella's?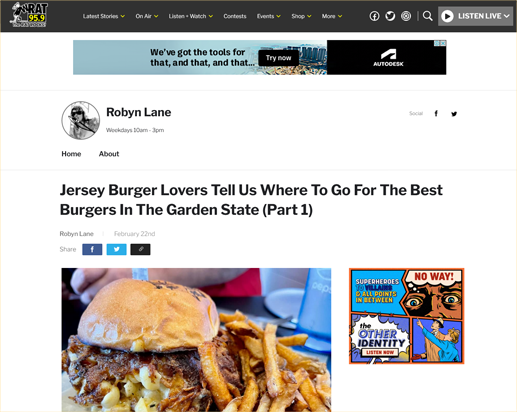 WRAT 95.9
Jersey Burger Lovers Tell Us Where To Go For The Best Burgers In The Garden State (Part 1)
February 22nd, 2023
Yella's burgers get a shout-out from WRAT 95.9—and our milkshakes get a mention even though the focus of the article is burgers! This guide to NJ's best burgers was made from a dedicated researcher and lots of word-of-mouth referrals, our favorite kind! Check out the write-up on Yella's at the radio station's website, or stop by to see for yourself why Yella's mouthwatering burgers made the cut!
Best of NJ
The Best of New Jersey Restaurant
Guide: 2023 Edition
December 30, 2022
The team at Yella's is thrilled to see our name included in Best of New Jersey's 2023 restaurant guide! Each year, only a few restaurants are so lucky as to be included on this list of delicious locales, but our Yella Submarine and Jersey Smash burger caught some positive attention! Check out the whole list of NJ's best restaurants from Best of New Jersey.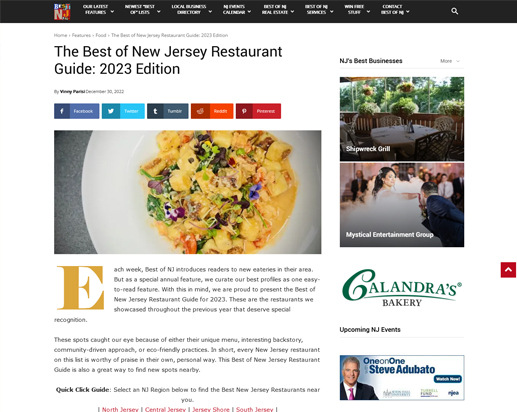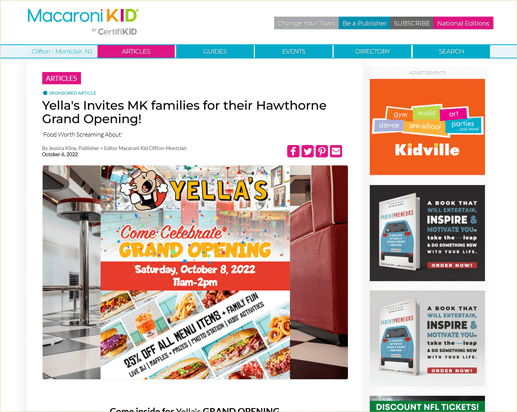 Macaroni KID
Yella's Invites MK Families for their Hawthorne Grand Opening
October 06, 2022
If you want a family-friendly spot in Hawthorne with great food, Yella's is it! Macaroni KID is a kid-friendly community that gives families ideas of what to do and where to go, and the team at Yella's is proud to see our Grand Opening celebration featured in their October article.
New Jersey's 101.5 FM
Yella's opens in Passaic County, NJ:
'Food worth screaming about
April 1, 2022
New Jersey's 101.5 FM lets the community know what's hot! Check out this article, based on an interview with Danielle Lorenzo, part of the three generations that make up this family-owned business. Find out where Yella's unique sub names come from, why our milkshakes are so tasty, and see our April 2022 seasonal milkshake!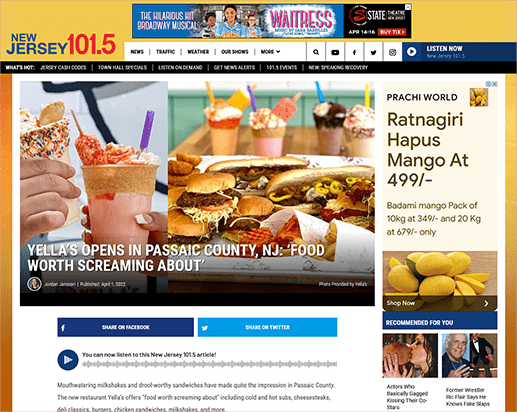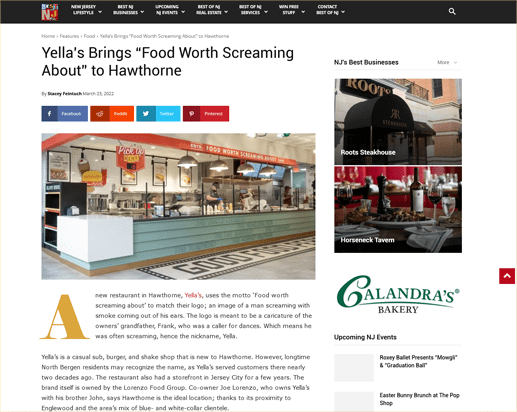 Best of NJ
Yella's Brings "Food Worth
Screaming About" to Hawthorne
March 23, 2022
Is Yella's among the best restaurants in NJ? Best of NJ shares family history, such as where the name "Yella's came from, why Hawthorne, NJ is the perfect place for a restaurant, and some signature items!
Patch
A Classic Sandwich Shop Returns to Northern NJ!
March 10, 2022
Yella's was pleased to be featured on Patch, a collection of everything local. Find out more about our history, delivery options, and food with this article, and see what else is new in NJ while you're there.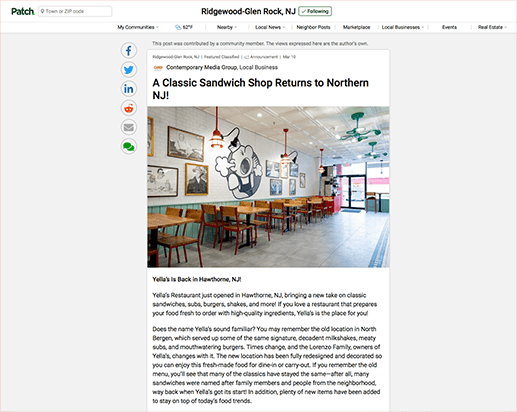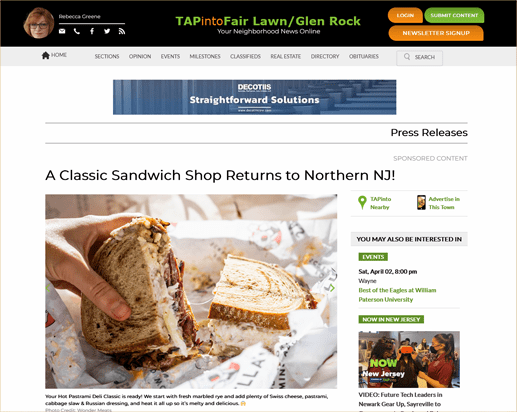 TAPinto
A Classic Sandwich Shop Returns to Northern NJ!
March 8, 2022
TAPinto's collection of neighborhood news online featured Yella's in March! Check out the article to see what's on our new menu and to find out what a perfect meal at Yella's is!
BoozyBurbs
Opening Alert: Yella's,
Hawthorne, NJ
January 25, 2022
If you live in the Greater Bergen County area, you know that Boozy Burbs has the best tips for food and entertainment in Northern NJ! Yella's restaurant opening was featured in January.